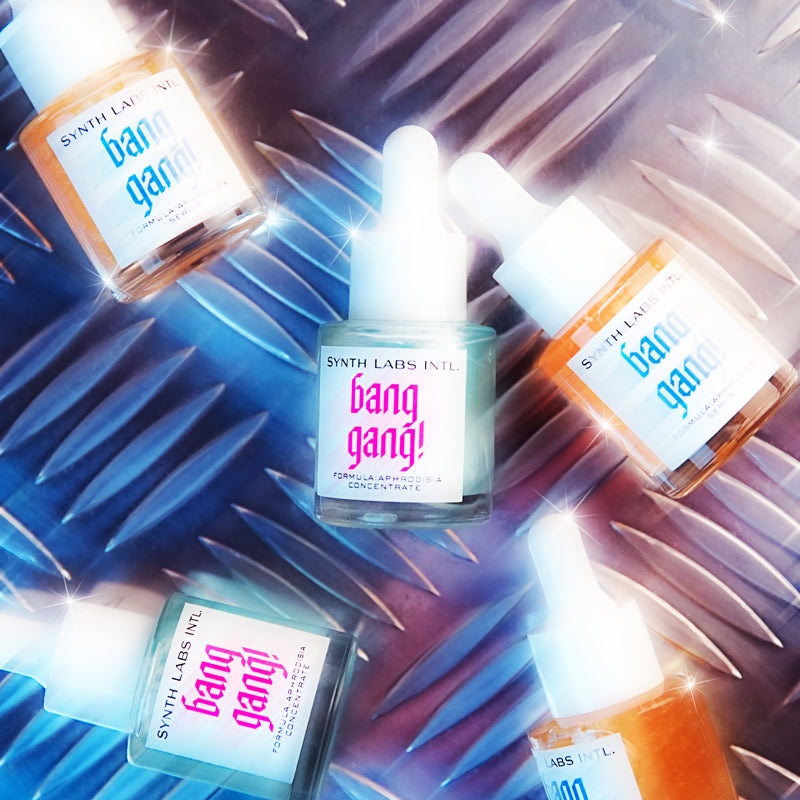 When married couple Dani and Sasha Andreev launched Synth Labs Intl. in 2019, they couldn't have imagined it would be so on-trend two years later. Steeped in 1980s neon-inflected aesthetics and the era's exuberance for the potential of technology, the Australian skincare brand is adamantly on the side of clean beauty's detractors as it embraces the power of lab-engineered ingredients to help the skin.
"We are championing synthetic ingredients. It's a brand that uses synthetic and natural ingredients as opposed to synthetic versus natural ingredients," says Sasha. Dani chimes in, "We want them to work synergistically together." And Sasha expounds, "We have a focus on dermal health. We are digitally native brand based in science. We are inclusive in that we don't focus on one gender. We don't focus on age. Everyone has skin. So, everyone has skin to look after."
The roots of the brand aren't in criticism of clean beauty, although the Andreevs take a firm stance against it. ("We are not going to say that we are clean. We are not going to scare someone into buying our products," asserts Sasha. "Our products stand on their own.") Instead, the roots of the brand are in worries Dani had as a makeup artist and skin specialist at a retailer in Australia about shoppers with terribly irritated skin due to packing their skincare regimens with retinols and acids. She felt they needed a soothing antidote to the harsh products they were slathering on their faces. Synth Labs Intl.'s first product, Chill, is that antidote.
The multidimensional product has two substances—Grass Jelly and Grass Powder featuring ingredients such as aloe vera, algae, hyaluronic acid, cica grass and snow mushroom—designed to be combined inside a silicone probe-like vessel to form a mask. Once they're combined, the vessel is placed in a freezer for four hours prior to the frozen mask being massaged on the skin as it's squeezed out of the vessel. Priced at 89.95 Australian dollars or nearly $65.30 at the current exchange rate, Chill is currently sold out.
"Chill is my baby," says Dani. "I used to get a lot of serums working in the industry. I would grab my serums and put them in an ice tray to freeze them and, every morning, I would put them all over my face. It would de-puff and sculpt my skin. I used to go to work, and people would compliment me all the time on my skin and say, 'How is your skin so amazing?' And that's how Chill was born."
The birth of Synth Labs Intl.'s other babies—Bang Gang! Formula: Aphrodisia Concentrate and Bang Gang! Formula: Aphrodisia Serum—happened in a different way. Sasha, a former fashion model agent, was chatting with the brand's cosmetic chemist about antioxidants and discovered many had aphrodisiac properties. "It was amazing to me, and that gave me the idea that blossomed into creating a mixable range. You can mix together the serum and concentrate," says Sasha. "I think skincare is a sensual activity. It's an act of self-love, and that's the idea behind Bang Gang! I wanted to create something subversive and a little bit shocking that works with all skincare brands."
Bang Gang! Formula: Aphrodisia Concentrate is priced at 69 Australian dollars or about $50 and contains blue tansy, tsubaki and starflower. Bang Gang! Formula: Aphrodisia Serum is priced at 59 Australian dollars or almost $43 and contains green tea isolate, algae and biofermented yeast oligopeptide. Synth Labs Intl. has 10 products in the pipeline and eight on the verge of finalization, according to Sasha. A Bang Gang! moisturizer is among the products on the verge of being done. Synth Labs Intl. is also undergoing what Sasha describes as a "small rebrand" to spruce up its packaging, switch Bang Gang!'s bottles from 20-ml. sizes to 30-ml. sizes, and boost pricing slightly.
The Andreevs started developing Synth Labs Intl. six years ago as a hobby. Even after the brand's website went live, Sasha says he and Dani were "testing the waters." He elaborates, "We are entirely self-funded, and we wanted to learn the ropes before we got our heads underwater." An Elle article published in September of last year entitled "The Next Big Things" that spotlighted Chill convinced Dani and Sasha to transition from testing the waters to really diving into the beauty business. Sasha says, "I thought, 'OK, we are onto something. The branding is good. The product is good. A beauty editor is enjoying it."
Once they concluded they were onto something, Sasha and Dani sat down together and identified 10 influencers a week to reach out to. They targeted skincare influencers with comments that reflected genuine engagement on the parts of their fans. TikTok, where Synth Labs Intl. has garnered more than 33,000 likes, has been an important platform for the brand. People on it are drawn to Synth Lab Intl.'s '80s look. "We are '80s tragics," says Sasha. "We were born in the '80s, and we listen to '80s music, and that '80s aspect comes into the brand visually with the '80s style." He laughs, "In Australia, we are perpetually in the '80s."
As people pore over social media posts and shift purchases to e-commerce, the pandemic has proved to be a boon for Synth Labs Intl. Sasha says its sales have doubled during lockdowns. There have been lockdowns across Australia to combat the Delta variant. United States is Synth Labs Intl.'s largest market, followed by Australia. "There's a movement in Australia to support Australian-made products, and we are very blessed in that people are interested in trying our products," says Sasha. "We have a lot of support and repeat customers."
He adds Synth Labs Intl. has been exceeding its sales goals, and it's been challenging to keep up with demand. The brand produces merchandise in small batches, and the pandemic had disrupted the supply chain, making it difficult to churn out as much as its customers are hungry for. Still, Sasha's and Dani's ambitions for Synth Labs Intl. are growing. They're considering placing it in retail accounts, and Dani envisions the brand eventually opening a store of its own.
"I would love to have a concept store where you would come in and have the experience of Synth Labs Intl. You would get a one-on-one, and we would educate the clients and give them a facial," she says. "I'm definitely a store person because I've always worked in retail and for a major corporation. I want to be able to give that experience."
Click here to read the entire article on beauty independent.
Words by: Rachel Brown
---